Find your perfect application
Customized NFT Development services
We combine technical expertise, innovative solutions, and industry best practices to deliver secure, scalable, and customizable NFT solutions tailored to your specific needs.
NFT Art Generation
Our smart contract development services include NFT art generation capabilities, enabling artists, creators, and enthusiasts to tokenize their unique digital artwork. By leveraging our expertise, you can transform your creative vision into one-of-a-kind non-fungible tokens, ensuring authenticity and provable ownership.

NFT Staking
Staking has become an integral part of the blockchain ecosystem, and we integrate this feature into our smart contract solutions. By implementing NFT staking mechanisms, we enable token holders to earn rewards and participate actively in governance, fostering a thriving and engaged community.
NFT Breeding
By leveraging the power of smart contracts, you can facilitate the breeding of NFTs, allowing users to combine and generate offspring with inherited traits, characteristics, or attributes. This opens up a whole new world of creativity, collectibility, and rarity in the NFT space.
NFT Marketplace
We provide robust smart contract solutions for building NFT marketplaces, facilitating seamless buying, selling, and trading of digital assets. Our customizable marketplace platforms empower you to create vibrant communities, connect with global audiences, and explore new avenues for monetizing your NFT creations.
NFT Launchpad
Launching an NFT project can be a complex endeavor, but our smart contract development services simplify the process. Our NFT launchpad solutions offer comprehensive tools and frameworks to facilitate the smooth launch of your NFT project, including features such as token distribution, crowdsale management, and community engagement.
NFT Game Development
We specialize in creating immersive gaming experiences powered by NFTs. Our smart contract development services enable the integration of NFTs into game ecosystems, allowing players to own, trade, and use unique in-game assets. From blockchain-based item ownership to play-to-earn mechanics, we help you redefine the gaming landscape.
NFT Tokenization
Our smart contract development services facilitate the tokenization of a wide range of assets, enabling fractional ownership and liquidity. Whether it's real estate, intellectual property, or collectibles, we leverage smart contracts to tokenize assets, unlocking new opportunities for investment and trading.
NFT Token Development
Order our NFT development services to turn individual goods into NFT tokens for trading, or integrate NFT creation features into your NFT marketplace to allow users to tokenize their assets. The token holders can earn rewards and participate actively in other aspects of the community.
NFT KYC integration
We provide advanced identity verification technologies to ensure regulatory compliance and fraud prevention. Integrate a custom KYC module into the existing NFT trading solution to assure customer authenticity through identity and data verification, as well as fraud detection.
Enterprise NFT Development
Types of NFTs
The world of NFT development encompasses various sectors, each unlocking unique opportunities for creators, artists, investors, and businesses to leverage blockchain technology and redefine ownership, value, and monetization in the digital landscape.
Real Estate NFT
Real estate NFTs revolutionize property ownership by tokenizing physical properties, allowing investors to buy, sell, and trade fractional ownership in real estate assets. They provide increased liquidity, accessibility, and transparency in the real estate market.
Art NFT
Art NFTs have transformed the art industry, enabling artists to tokenize their digital or physical artworks, establish provenance, and sell them directly to collectors. Art NFTs offer unique ownership, verifiable authenticity, and new avenues for artists to monetize their creations.
Music NFT
Music NFTs empower musicians to tokenize their music, albums, or exclusive experiences, granting fans access to unique content, merchandise, or concert tickets. Music NFTs create new revenue streams, deepen fan engagement, and provide artists with greater control over their creative output.
Game NFT
Game NFTs introduce digital ownership and scarcity to the gaming world. Players can acquire and trade in-game items, characters, or virtual assets as NFTs, giving them true ownership and the ability to monetize their virtual possessions.

Metaverse NFT
Metaverse NFTs represent virtual land, properties, avatars, and other digital assets within virtual worlds or decentralized metaverses. Metaverse NFTs enable users to buy, sell, and build on virtual land, creating unique and immersive digital experiences.
Social Media NFT
Social Media NFTs allow users to tokenize their social media posts, tweets, or digital content, creating a new way to monetize online presence and engage with fans. Social Media NFTs provide a means for content creators to reward loyal followers and generate revenue from their digital influence.
Fractional NFT
Fractional NFTs enable the fractional ownership and trading of high-value assets. Investors can purchase fractional shares of NFTs, such as rare collectibles or high-priced artworks, allowing broader access to exclusive assets and potential investment opportunities.
Physical Assets NFT
Physical Assets NFTs bridge the gap between physical and digital worlds by tokenizing real-world assets like luxury goods, collectibles, or memorabilia. These NFTs establish verifiable ownership and facilitate transparent trading of physical items in digital marketplaces.

Bitcoin Ordinals NFT
Bitcoin Ordinals NFTs tokenize specific block heights or positions within the Bitcoin blockchain, providing collectors with a unique piece of Bitcoin's history. These NFTs hold symbolic value and serve as mementos of the Bitcoin network's growth and significance.
NFT Ticketing
NFT ticketing transforms traditional event ticketing by issuing tickets as NFTs. NFT tickets offer enhanced security, prevent counterfeiting, and provide additional benefits like exclusive access, rewards, or digital content related to the event.
Customised NFT Development Services
Technologies we work with
---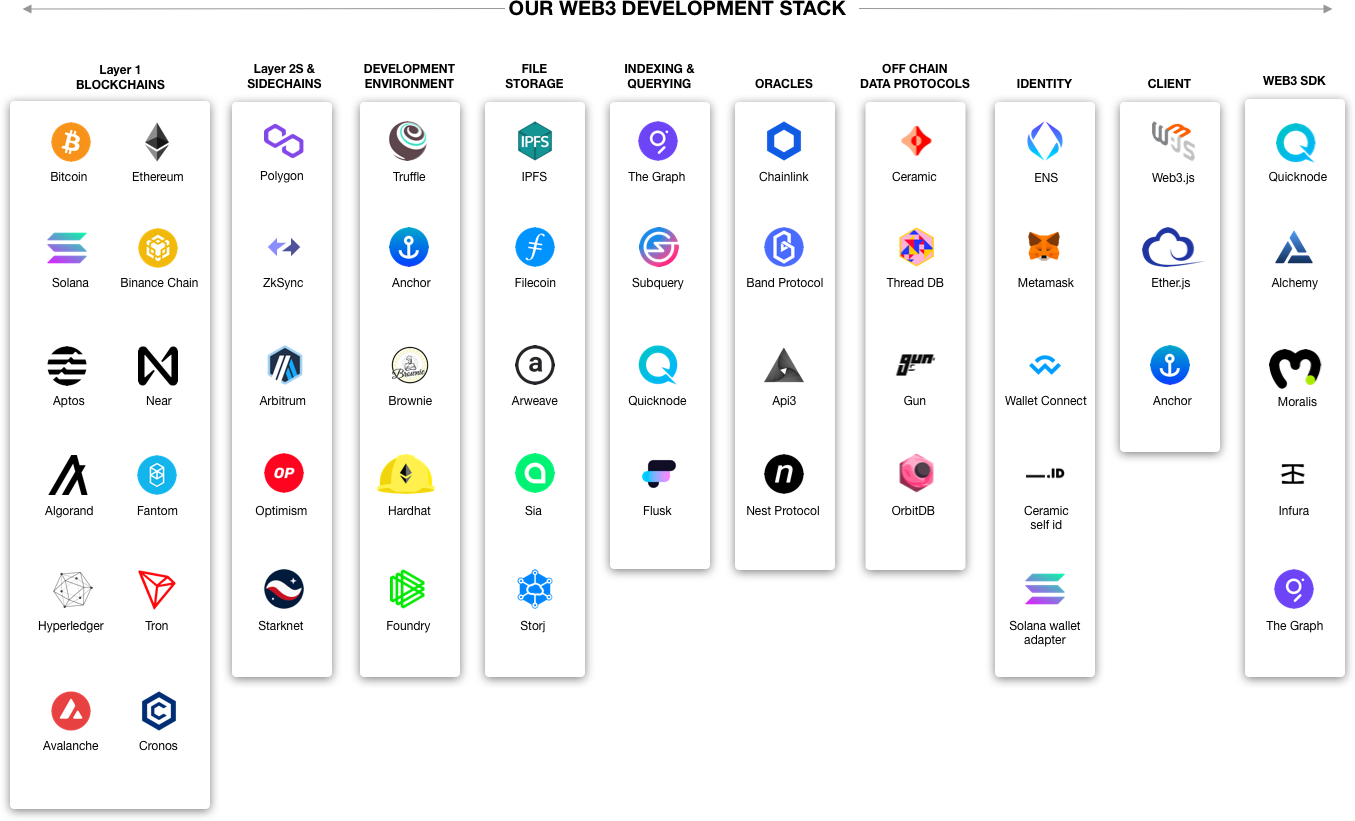 Benefits of NFT Development Services
In today's rapidly evolving digital landscape, non-fungible tokens (NFTs) have emerged as a revolutionary force, transforming the way we perceive and interact with digital assets. Our NFT development service empowers individuals, artists, and businesses to leverage this groundbreaking technology, opening doors to unparalleled opportunities and redefining the concept of ownership.
Authentic Digital Ownership
With NFTs, you can establish provable ownership and uniqueness for your digital creations, whether they are artworks, collectibles, or virtual assets. Our NFT development service enables you to mint, tokenize, and secure your digital assets, granting you the power to verify and trade them on blockchain platforms.
Monetize Your Creativity
Artists, musicians, and content creators can tap into the immense potential of NFTs to monetize their work directly, eliminating intermediaries and connecting with a global audience. Our NFT development service empowers you to create and sell digital collectibles, limited editions, or licenses, enabling new revenue streams and fostering a vibrant creator economy.
Enhanced IP Protection
NFTs provide an innovative solution for safeguarding intellectual property rights. By leveraging our NFT development service, you can embed immutable ownership data, copyrights, or licenses directly into the digital assets themselves, ensuring that your creations are protected from unauthorized use or plagiarism.
Increased Transparency and Trust
The transparent nature of blockchain technology ensures a high level of trust and eliminates fraudulent activities. By utilizing our NFT development service, you can leverage this transparency to establish traceable ownership history, provenance, and transaction records, instilling confidence among buyers, collectors, and investors.
Access to New Markets & Audiences
NFTs have opened up a vast new market for digital assets, attracting a diverse range of collectors, enthusiasts, and investors. By embracing our NFT development service, you gain entry into this burgeoning ecosystem, enabling you to reach global audiences, engage with dedicated communities, and unlock new business opportunities.
Future-Proofing Digital Assets
As technology continues to advance, NFTs provide a future-proof solution for preserving and monetizing digital assets. Our NFT development service ensures that your digital creations are securely stored on the blockchain, guaranteeing their longevity and value in an ever-evolving digital landscape.
Best NFT Platforms Agency
Experience frictionless growth through customized solutions
Tell us about your future Web3 project, and we will contact you within one business day.
Offshore NFT Development Services
Our NFT Development Process
We understand that your time is valuable, so we will collaborate with you to quickly understand your requirements and deliver a solution that meets your expectations. We are also available to provide support after the project is complete.
Step 1

Analyze Scope
We analyze the starting point of your current situation. We locate needs, determine objectives and plan solutions. We create a final report guide as a project roadmap.

Step 2
Determine Blockchain
After analysing the scope of the project, we propose our own development strategy and recommend the best blockchain network for your business model.

Step 3
Smart Contracts
our experienced blockchain developers finalise the features and blockchain interactions and then start working on smart contracts.

Step 4
Implementation
Technological development under continuous integration in an agile environment by engineers fully committed to the project and its ideas.

Step 5
API Integration
The wallets are now integrated into the system and can be used to store and trade NFTs. Any further Third Party APIs that are required by the company are also integrated.

Step 6
QA & Post-production
The start of a long relationship. We are here, by your side, to find the best solution, to adapt to changes and optimize the developed project.
Take the next step in the crypto revolution with our cryptocurrency development solutions.
Remote NFT Developers
Your dedicated
technology partner
We have an experienced and highly qualified core team that has worked on more than 380 successful projects in various technologies in a wide variety of verticals in custom development. We pay attention to all the new technological trends that appear and try to incorporate those that may be of interest to our projects.
Expertise and Experience
Our team comprises seasoned professionals with extensive experience in blockchain technology and NFT development. We have a deep understanding of the intricacies involved in implementing blockchain solutions and can provide valuable insights and guidance based on real-world experience.
Tailored Solutions
We recognize that each organization has unique requirements and goals. Our consultation services are customized to meet your specific needs, ensuring that the solutions we propose align with your business objectives. We take the time to understand your industry, challenges, and opportunities to deliver tailored strategies and recommendations.
Comprehensive Approach
We offer a holistic approach to blockchain consultation, covering all aspects of NFT development. From initial ideation and strategy development to proof of concept, solution deployment, and ongoing support, we provide end-to-end services to ensure a smooth and successful implementation.
Cutting-Edge Technology
We stay at the forefront of blockchain technology advancements, continuously updating our knowledge and skills. By leveraging the latest tools, platforms, and protocols, we deliver state-of-the-art NFT solutions that Utilize the full potential of blockchain and enable you to stay ahead of the competition.
Security and Compliance
Security is paramount in blockchain implementations. Our team prioritizes the implementation of robust security measures to safeguard your data, transactions, and digital assets. We also ensure compliance with relevant regulations and industry standards, providing you with peace of mind throughout the process.
Client-Centric Approach
We place great emphasis on building strong client relationships and delivering exceptional customer service. We collaborate closely with you, maintaining open lines of communication and involving you in the decision-making process. Your satisfaction and success are our top priorities.
Proven Track Record
Our track record speaks for itself. We have successfully assisted numerous organizations in implementing blockchain solutions and NFT across various industries. We have garnered positive testimonials and established long-term partnerships based on our ability to deliver tangible results.
Continuous Support
Our commitment to your success extends beyond the initial consultation and implementation phase. We provide ongoing support and maintenance services to ensure the smooth operation of your NFT solutions. We are always available to address any questions or concerns that may arise.
Trusted by leading
brands worldwide
We don't build clientele, we build relationships.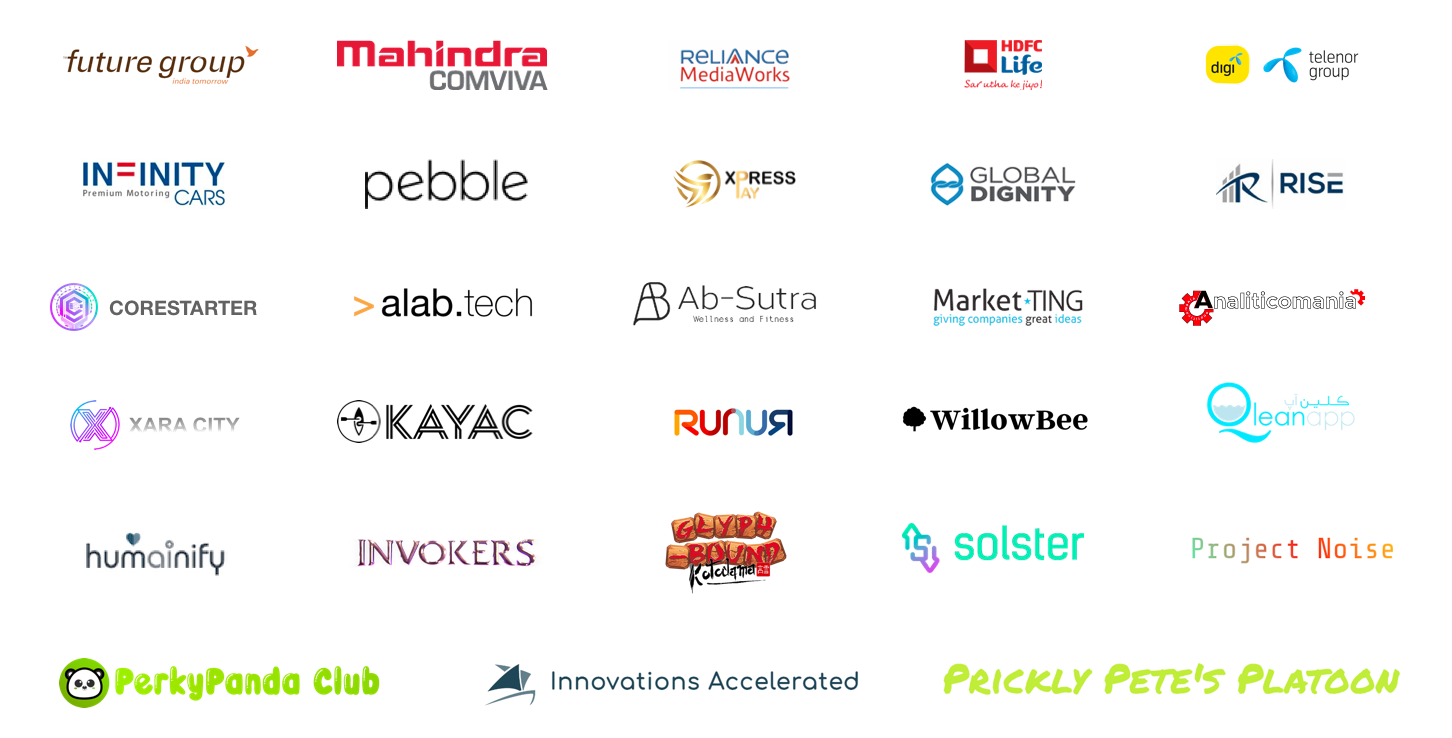 Serving Top Industires
Our well curated Portfolio
a fully immersive, Play-To-Earn game Ecosystem
Xaracity
Xara City is a Blockchain Ecosystem; consisting of NFTs, a Staking Platform, In-Game Token, Play-To-Earn Game, Metaverse and NFT Marketplace with an Exchange Tool. Here a Real Estate themed NFT's can be purchased, thereby rewarding the Xara City Real Estate Owner with XARA when their NFTs are staked and upgraded to virtual apartments which they can also later rent out to earn more XARA from potential tenants.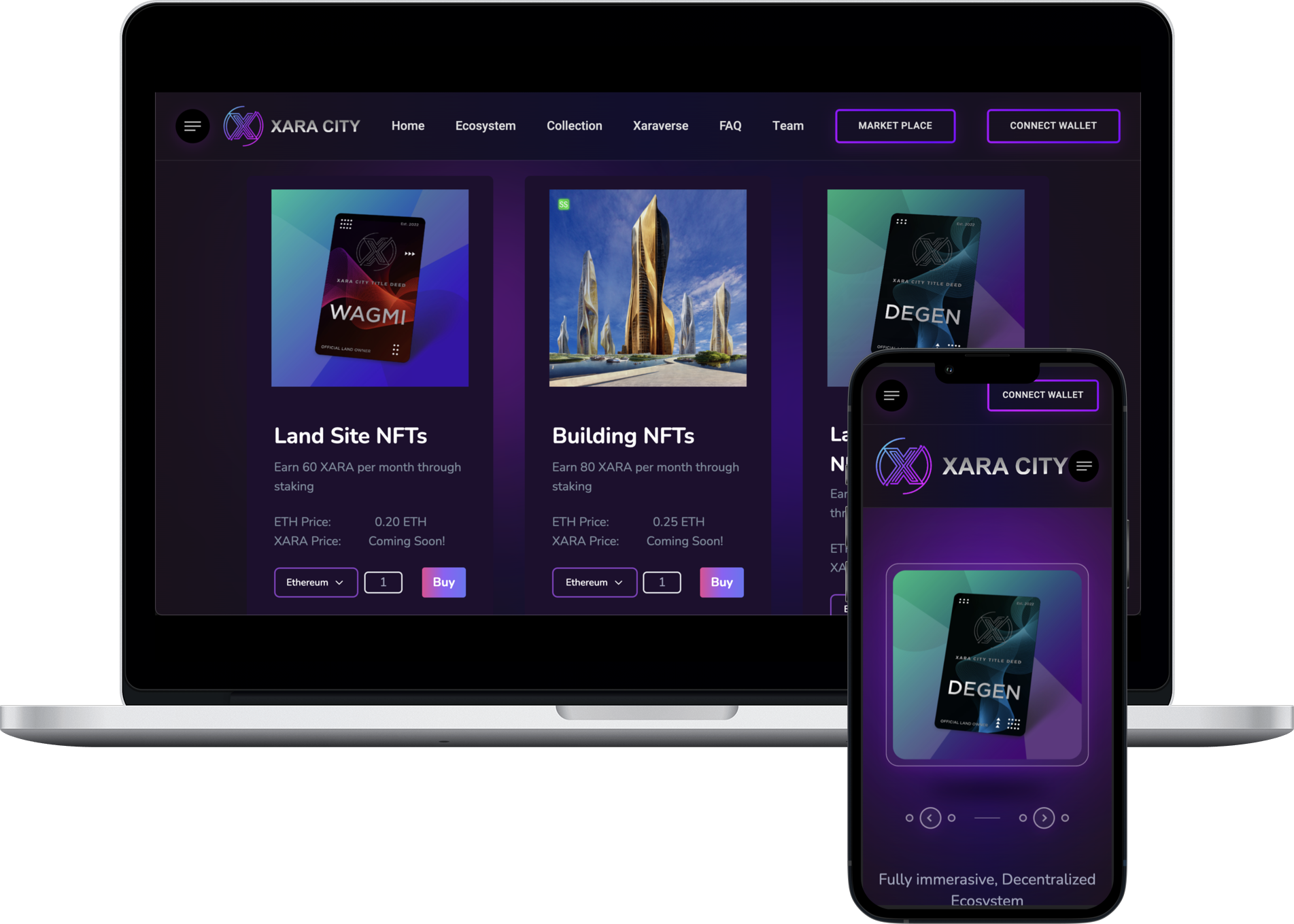 Multichain IDO and INO Launchpad
Corestarter
Corestarter is a multichain IDO and INO Launchpad with NFT Launchpad built on Solana with high yield staking. CoreStarter includes the interoperability of Solana and other blockchains like Binance, Ethereum, Matic, Cardano, etc.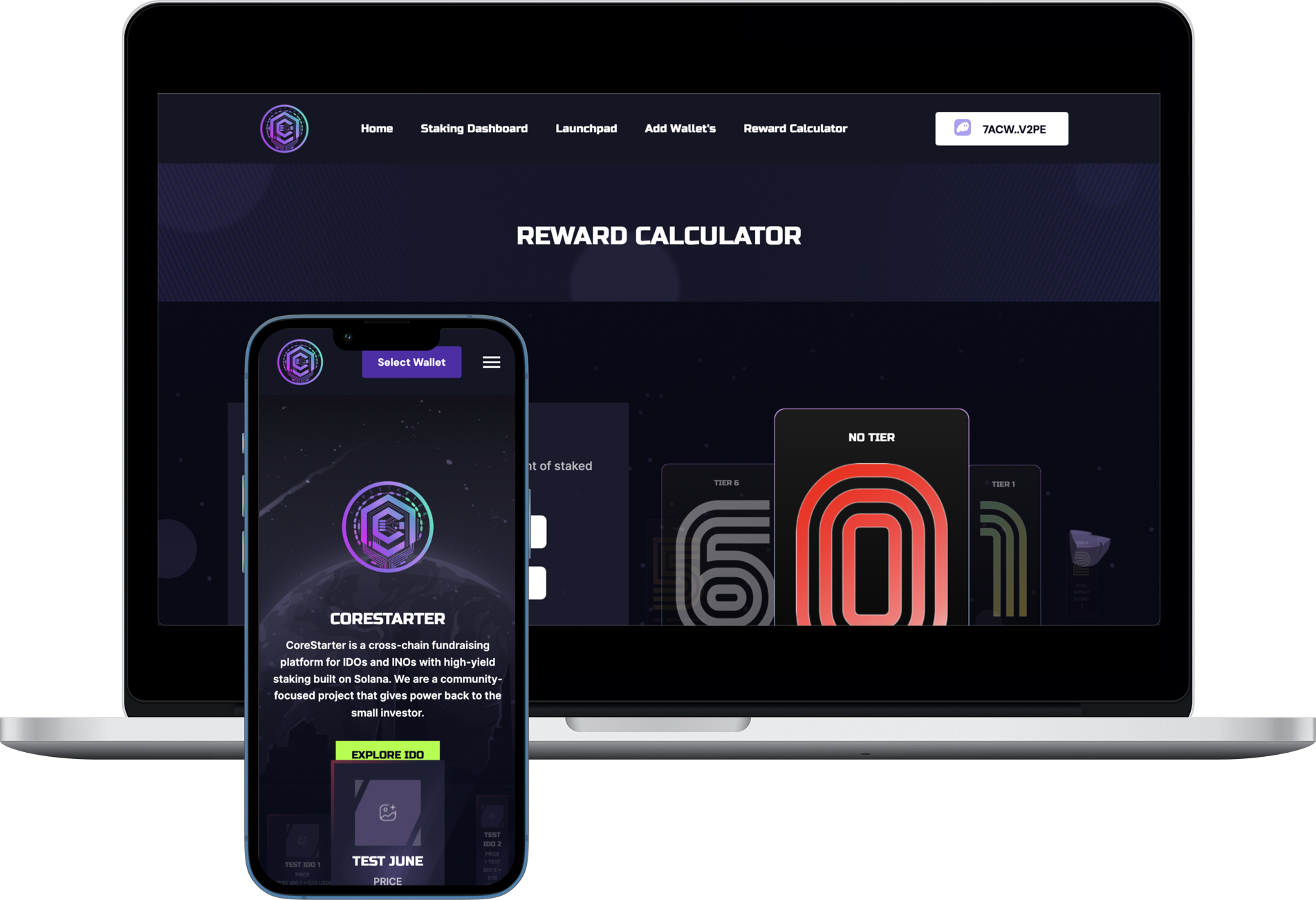 A P2E MMORPG game
Invokers NFT
Invokers is a DeFi ecosystem with NFTs, game tokens and MMORPG game. Users can earn Invokers tokens passively by utilizing tokens in leveraged Pools & Farms of Single-Staking on Solana blockchain.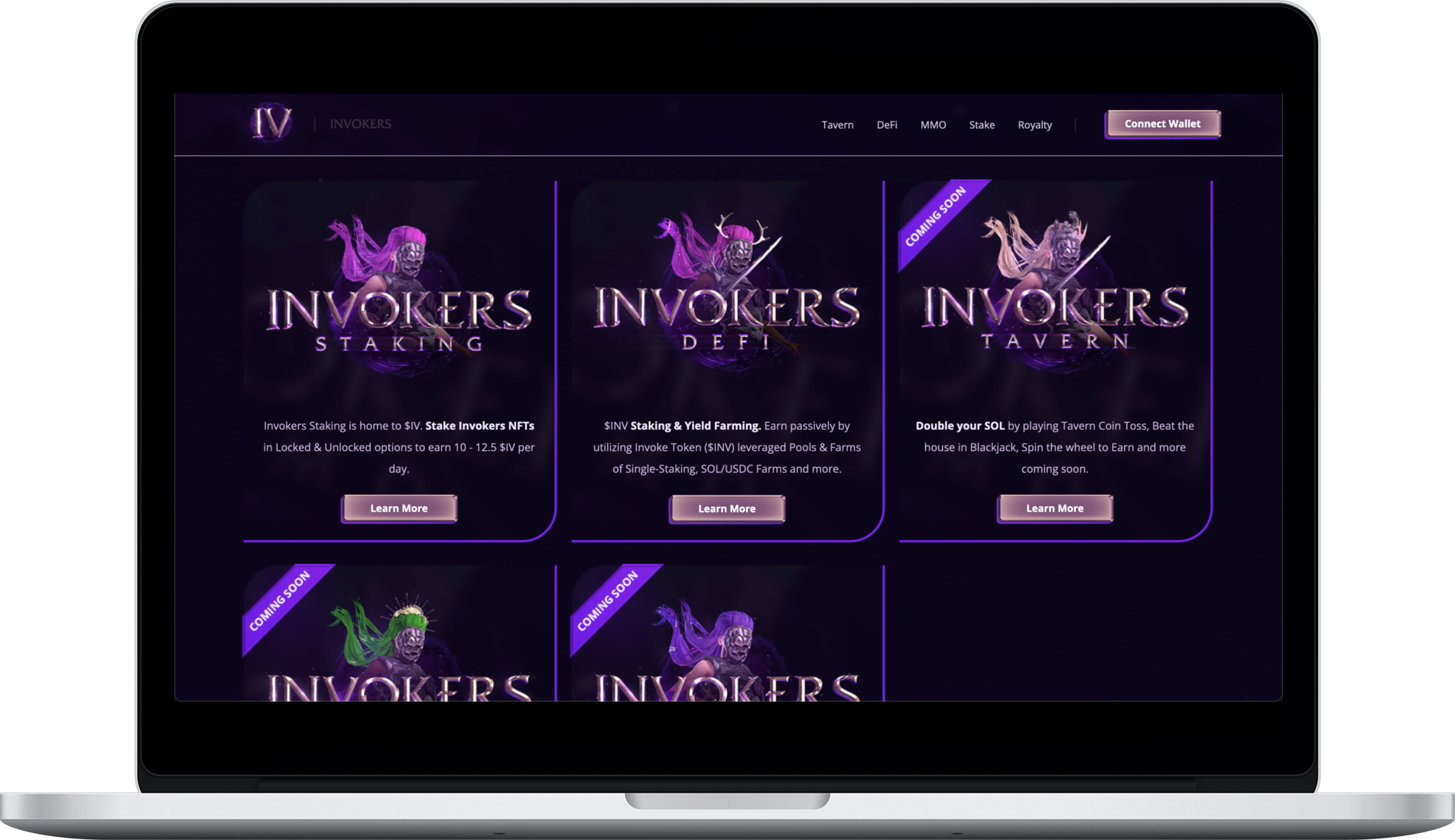 A Pixel art MMORPG game
Glyph-Bound
Glyph-Bound is a monster-catching MMORPG inspired by Pokemon. Users can TRACK, TRAIN, & TRADE elemental spirits called "Kami" with the help of staking and breeding system developed on the solana blockchain.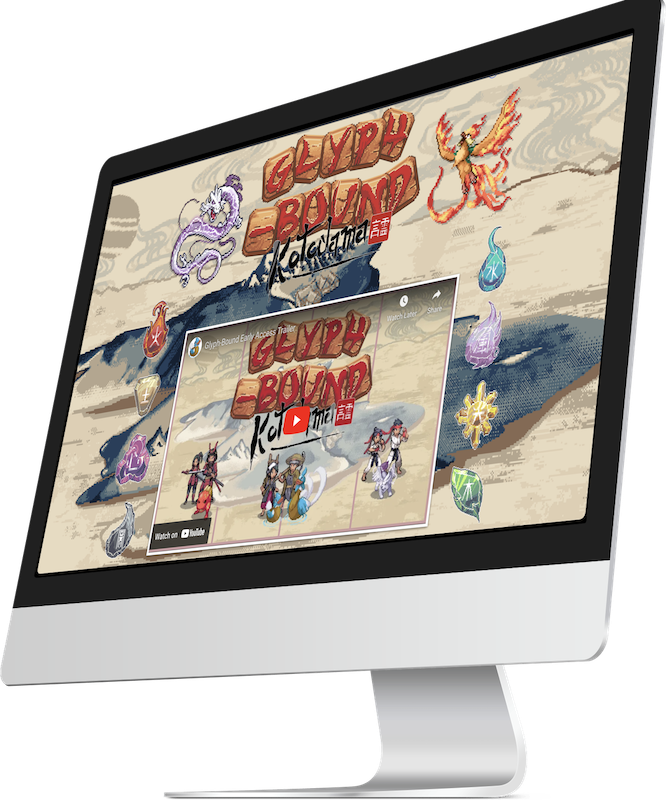 DeFi Ecosystem
Solster Finance
Solster is a DeFi platform for fundraising which is built on the Solana blockchain with guaranteed token allocation to participants. Solster ecosystem incorporate decentralized exchange (DEX) for crypto trading, token swap, token staking and lottery platform.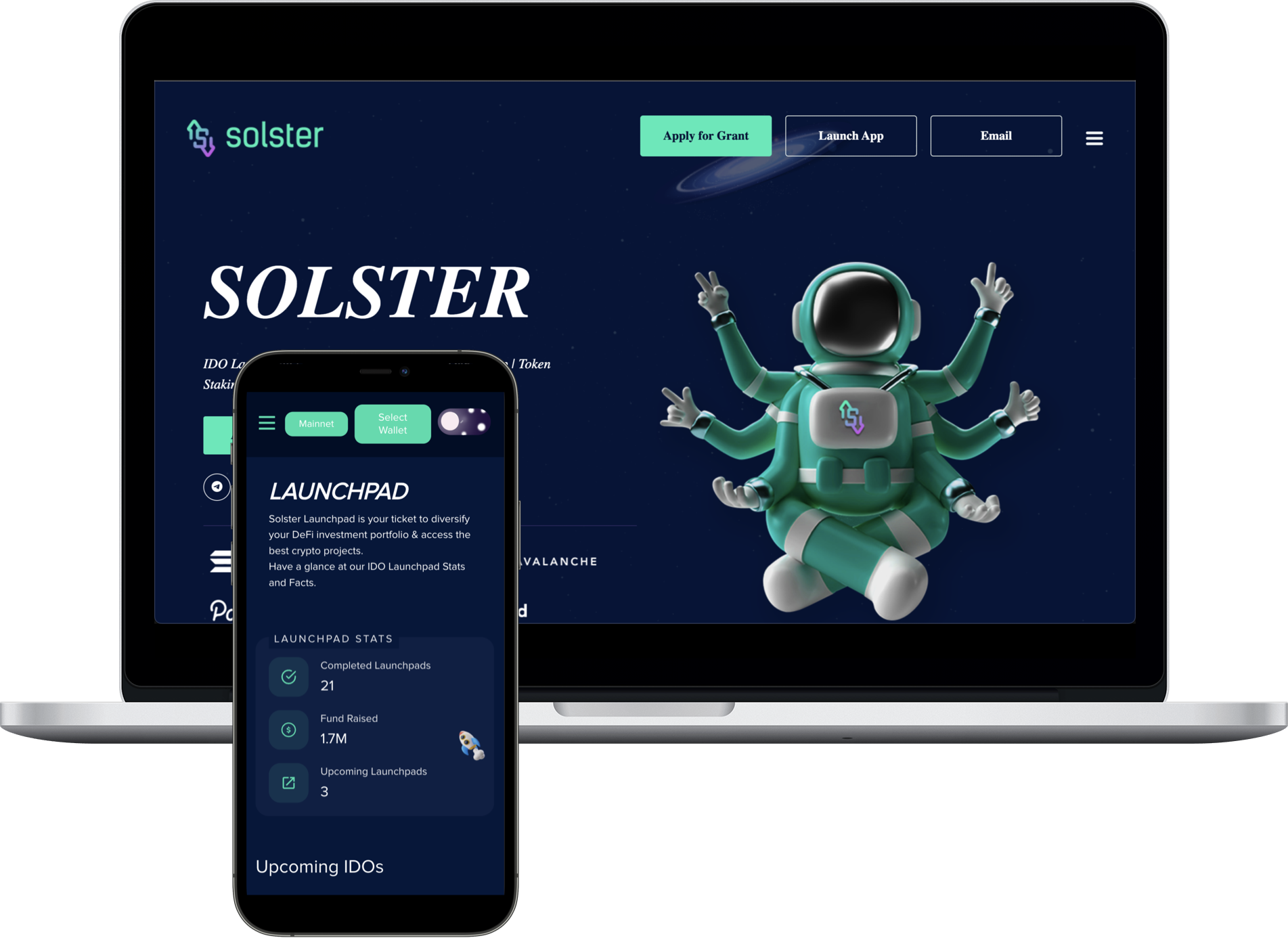 Enabled city based analytics by developing
Smart City Platform
Smart city platform where the community can engage with civic or government authorities as well as private institutions resulting in good governance, promotion of personal and community safety and security, promotion of tourism and local businesses, and improving the quality of life as well as quality of services.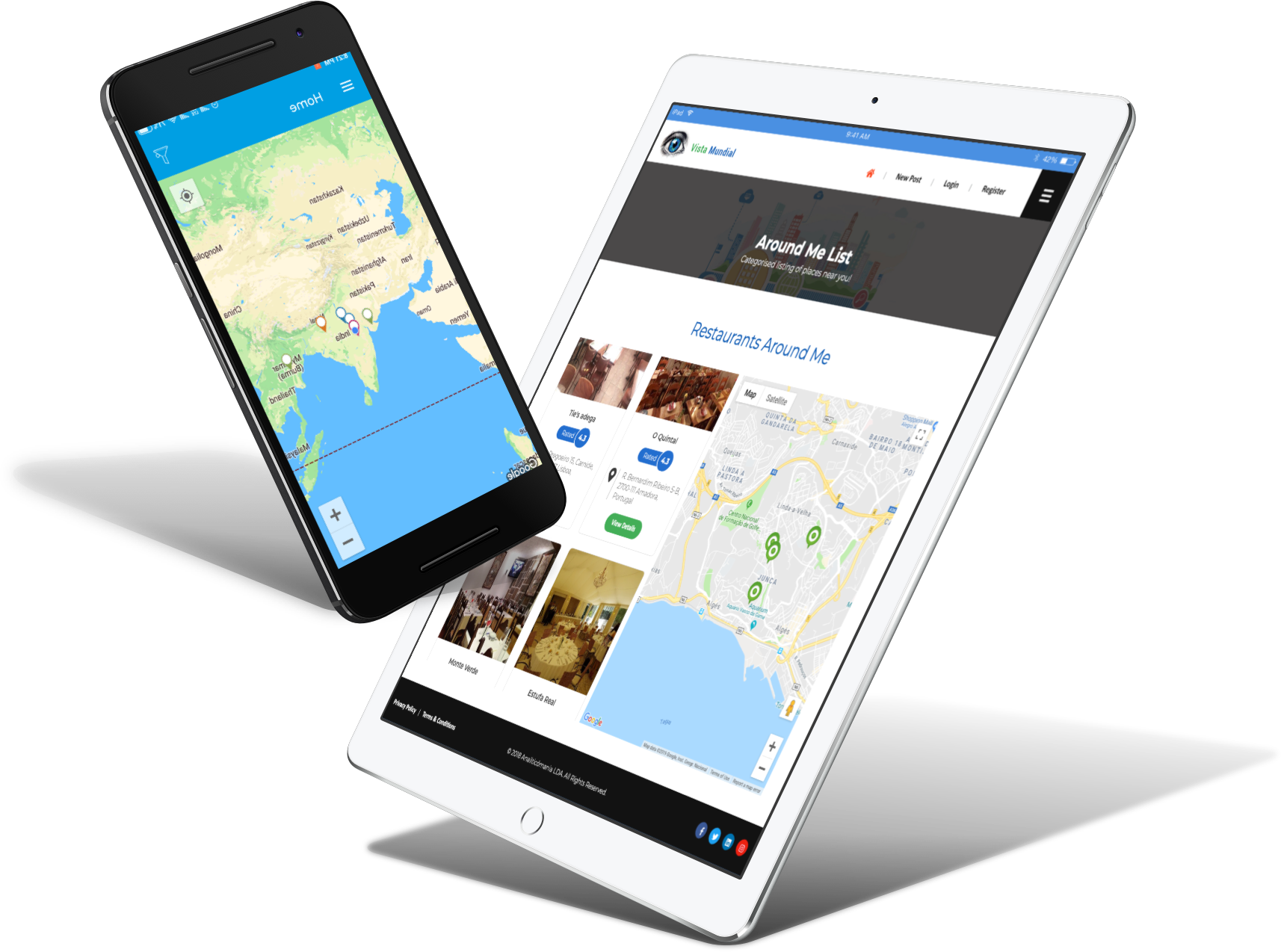 Reduced delivery time by 30% through
Runur - Your doorstep delivery
Runur is a drop shipper's platform which will disrupt the local freight services by leveraging power of the crowd sourcing. The system is capable of managing the third party vendors individually and also via third party APIs.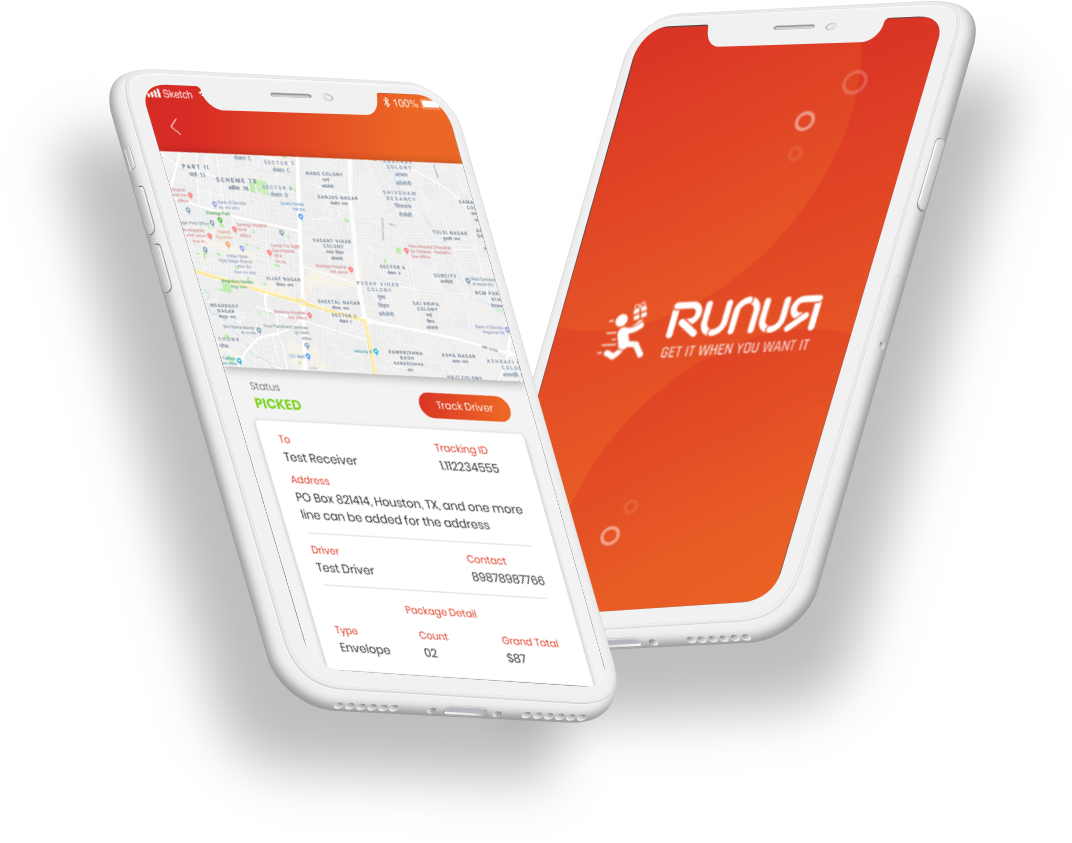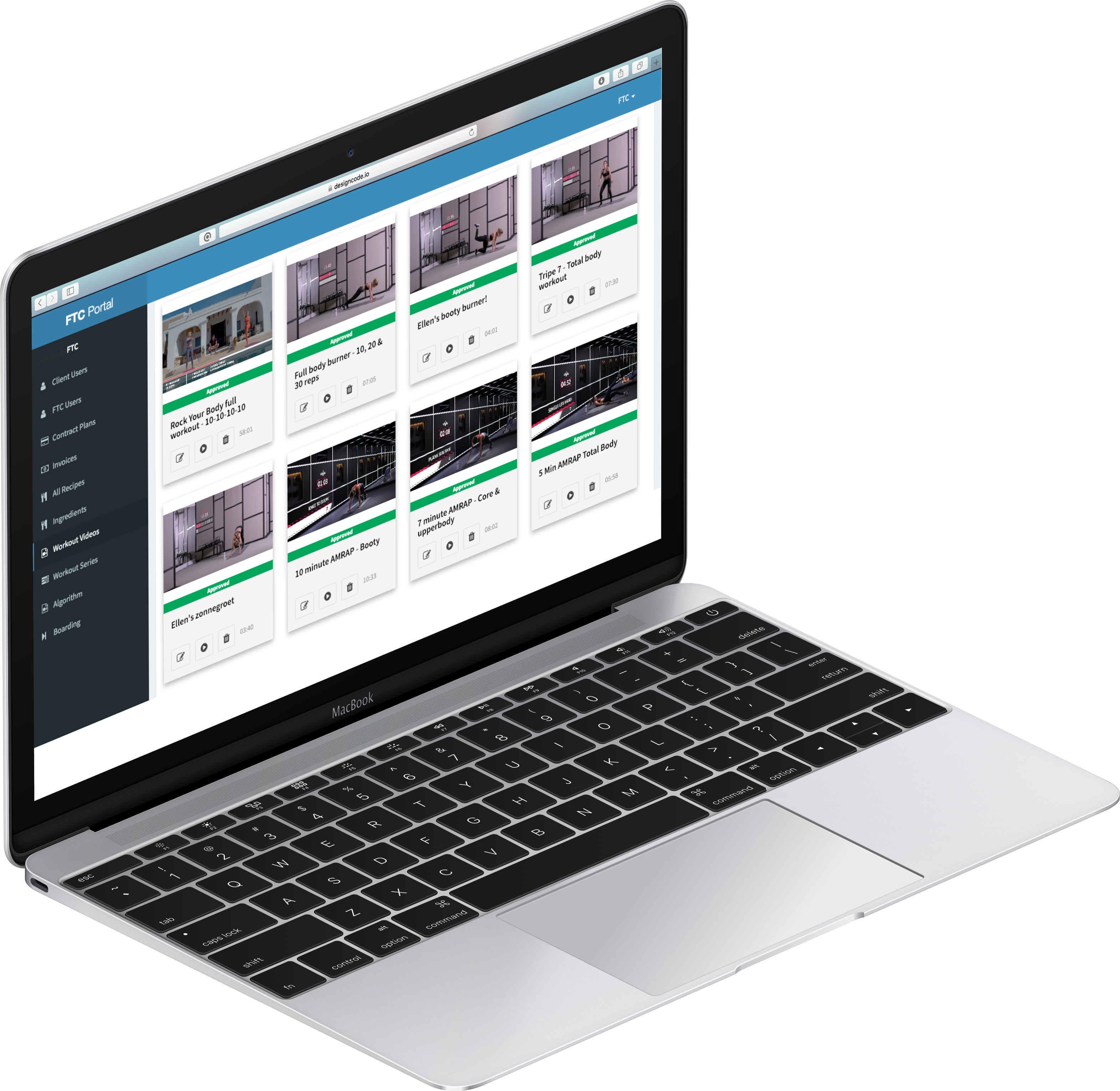 Increased engagement by 80% for gym owner
RockYourBody - Your personal trainer
The COVID-19 crisis destroyed the fitness market. This application bring together the nutritionist and trainers on a platform, where user can get consultation, diet charts & recipes, and different types of videos depending on the body of the user.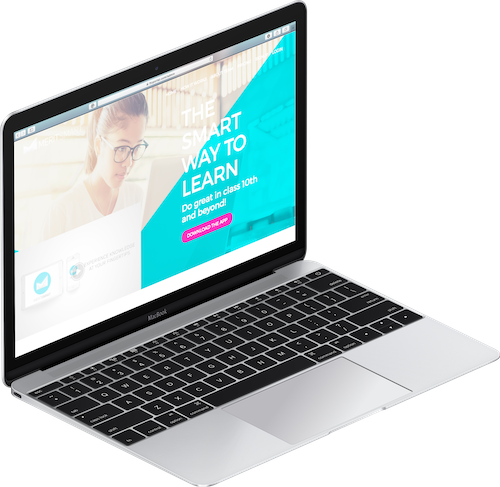 Online learning app
Merit Smart
We developed an app for MeritSmart to enable the students to download the videos when they have the internet connection and learn on their own pace when they wanted. We used technology not only to reach everyone but also to re-design and re-invent the learning methodologies.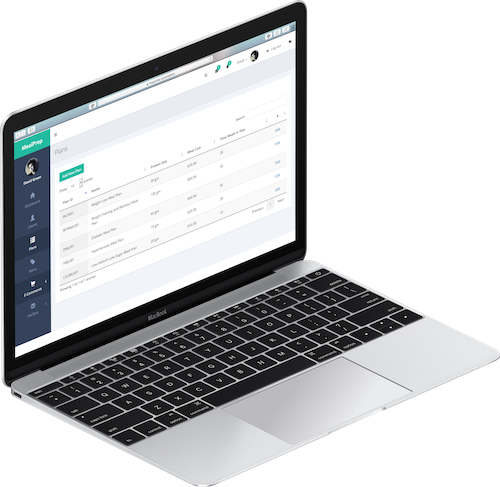 Track & manage customer operation with
MealPrep - SAAS Application
An end-to-end business management tool for the business owners to track their menu, ingredients of the meal according to customer preferences, and delivering the meals as per the schedule.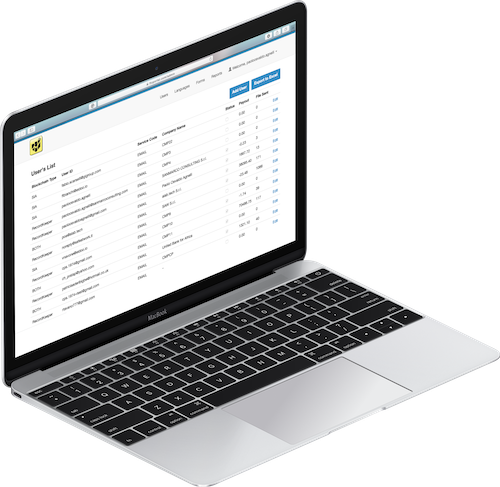 Identity Management with blockchain
FileIdentifier
FileIdentifier creates a "digital fingerprint" of the file and stores it on the Blockchain, sufficient to guarantee, as for the digital impression of a human body, the integrity of the whole document, allowing independent validations of their authenticity and immutability over time, ensuring also maximum privacy.
Top Software Development Company
Proven frameworks to deliver real results
that exceed your expectations
Top NFT Developers
Solve the unsolved queries
Let's Talk
We're excited to hear about your project. Schedule a call today and Connect with our experts. We respect your privacy and Never share your details with anyone. Let's build together.